Plus Vision Corporation Selected eSOL Products for the New M11 Series Copyboard (eSOL, head office: Nakano-ku, Tokyo; president: Tsutomu Sawada)

TOKYO, JAPAN - September 28, 2006

eSOL Co., Ltd. announced today that their products were selected for the M11 Series copyboards with USB Flash Memory made by Plus Vision Corp. (Plus Vision, head office: Inagi-shi, Tokyo; president: Shinichi Fukushima).

Four eSOL products wereselected for the M11 Series: PrKERNELv4 µITRON4.0 compliant real-time OS, PrFILE FAT file system, PrUSB/Device USB device stack, and PrUSB/Host USB host stack .

The M11 Series are the first copyboards (electronic whiteboards) to include a USB port, as a standard, and to use LED light system for scanning. Users can save letters, drawings, and charts drawn on board surface of M11 to a USB Flash memory as image data. Also, users can utilize the M11 in a scanner-like way to import images directly to a PC, connected to the copyboard. By using an LED light system, it supports a long life, low power, and a fast lighting speed to realize a quick start; the light is on almost from the moment the user turns on the power switch. It also eliminates the trouble of changing and maintaining the light source parts. Scanning functionality is also improved to record faint letters and drawings. Image data can be printed on usual paper when a color ink jet printer is used in set. The M11 Series includes two models,the 1,300mm width M- 11SI and the 1,800mm width M-11WI;Users can select the model that matches the environment or purpose for use.

eSOL products, in the PLUS copyboard, provide various functions that work as the basis of whole system. PrKERNELv4 is responsible for the task management of the whole system, memory management, and real-time processing;Also, PrUSB/Host allows a connection with USB Flash memory. PrFILE2 provides a file management function in the USB Flash memory card, while PrUSB/Device offers a connection with the printer or PC.


For more information, please visit the Plus Vision Corporation website: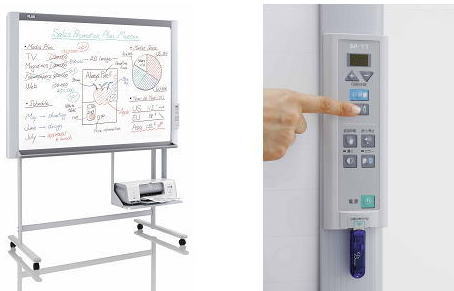 Comments from Mr. Yutaka Takeuchi, Director of the Design department at Plus Vision Corporation

"We could build highly reliable systems by using eSOL products with proven track records. Since eSOL products were already verified for interoperability, we could build hardware peripherals and develop software efficiently to focus on upper applications. This helped us to realize shorter development time with less costs."


Comment from Mr. Nobuyuki Ueyama, Executive Vice President, Embedded Products Division at eSOL Co., Ltd.

"I am very happy that Plus Vision selected our products for their copyboards; unique office equipment. PrKERNELv4 and other eSOL RTOS and middleware products have been used in many applications in a wide spectrum of targets, including digital electronics devices, office equipment, FA equipment and medical devices, to name a few. This long history leads to high maturity and functionality of each product that users can use at ease. We will continue to provide useful products and services to further develop embedded software for various areas."

About PrKERNELv4

PrKERNELv4 is a leading and µITRON compliant real-time OS. From its date of release in 1999, it has been used in wide variety of targets from digital home electronics devices including cellular phone and digital camera, car navigation systems, and printers to FA equipment. It is fully compliant to the µITRON4.0 standard profile, ,it implements various extension functions and PrKERNELv4 original extensions. Kernel common part is based on MISRA-C -it realizes superior real-time features with a program size ideal for embedded systems.

About PrFILE2

PrFILE2 is a FAT file system supporting FAT12/16/32 and VFAT. It added many functional extensions and enhancement while taking over features from PrFILE. PrFILE2 and has an architecture that can support application specific customization requests flexibly and quickly. Also, it has a fast backward-seek function for file pointer, a function to minimize the file system destruction at accidental power shutdown or media removal and other essential functions for the next generation of digital electronics devices. PrFILE2 provides a rich line-up of media drivers, including compact flash and SD cards.

About PrUSB/Host

PrUSB/Host is a USB host stack compliant to USB1.1 and 2.0 (Full Speed/High Speed) specifications to implement USB host functions in an embedded system. By embedding PrUSB/Host, direct communication with USB devices is supported without using a PC. Optional mass storage class drivers enables using USB flash memory, other mass storage devices and digital cameras as the external storage.

About PrUSB/Device

PrUSB/Device is a USB device stack compliant to USB1.1 and 2.0 (Full Speed/High Speed) specifications. Currently, digital consumer equipment and most embedded devices include USB communication functions. By embedding PrUSB/Device, designers can easily develop devices with USB device functions.

About eSOL Co., Ltd.

Under its guiding spirit of "Contribution to the society through computer enginerring", eSOL has a long, successful, history in the embedded software and distribution/logistics market since it was founded in 1975. eSOL offers the total solution for consistent services, from development to sales and support, eSOL always puts customer satisfaction first.

As an A-level member of T-Engine forum, eSOL strongly promotes technical development and service offerings related to T-Engine and T-Kernel. eSOL offers embedded software products including eBinder developemt suites for T-Kernel/µITRON based system, and eT-Kernel T-Kernel extension. Also, eSOL offers eParts line-up including PrKERNELv4 & µITRON4.0 compliant real-time OS.

eSOL Co.,Ltd established eSOL, Inc. in Portland, Oregon, USA, as its affiliate company, in January 2004 to expand sales of eBinder and eParts to markets in North America, Europe and Asia as well as in Japan.

*eBinder, eParts, PrKERNEL, PrKERNELv4, PrFILE, PrCONNECT and PictDirect are registered trademarks of eSOL Co., Ltd.
* eT-Kernel, PrHTTPD, PrMAIL, PrSNMP, PrUSB, PrPCCARD and PrMTP are trademarks of eSOL Co., Ltd.
*TRON is an abbreviation for The Real-time Operating system Nucleus;.
*ITRON is an abbreviation for Industrial TRON;.
*µITRON is an abbreviation for Micro Industrial TRON.
*TRON, ITRON, T-Engine, T-Kernel are names for computer specifications and don't refer to specific product or group of products.
*All brand names and product names are trademarks or registered trademarks of their respective companies.