eSOL's Real-time OS and Development Environment Selected for Navigation Systems, Developed by Denso Corporation

-- Selected for Fujitsu Ten ECLIPSE AVN7406HD Car Navigation System --

TOKYO, JAPAN - November 30, 2006 (eSOL, head office: Nakano-ku, Tokyo; president: Tsutomu Sawada)

Today, eSOL announced their real-time OS and development environment were chosen for car navigation systems, designed by Denso Corp. (Denso). The product using this system was released in mid November, 2006, byFujitsu Ten Limited, as ECLIPSE AVN7406HD car navigation system..

Denso selected eSOL products: eT-Kernel/Extended, T-Kernel with memory protection and process model support, and eBinder/T-Kernel based system for their development. These solutions contribute to the creation of more efficient development systems for car navigation as well as high reliability for the total system and a smooth user operation environment. eT-Kernel/Extended is a real-time OS based on T-Kernel/Standard Extension standardized by the T-Engine forum. Also, it has many functional enhancements to fully support memory protection function with MMU (Memory Management Unit) and process model. eBinder is a development environment for eT-Kernel/Extended; effectively and efficiently developing large, sophisticated car navigation systems.

Denso is a global top supplier for automotive advanced technology, systems, and products including core components and ITS (Intelligent Transport Systems). Especially in the car navigation system sector,, Denso has a leading global share with its products used by automotive manufacturers in countries all over the world, including Japan, Europe, the States, Australia and Asia. In 1987, Denso developed the first CD disc navigation system for automotives, installed in Toyota Crown. Since that time, Denso has been continuing their development for more advanced car navigation systems by setting the de facto standard for the market.

AVN7406HD along with eT-Kernel/Extended and eBinder, will be shown at eSOL's booth (S-6) in the TRONSHOW2007 held at Tokyo International Forum from December 5th - 7th.


For more information on AVN7406HD, please visit Fujitsu Ten web site: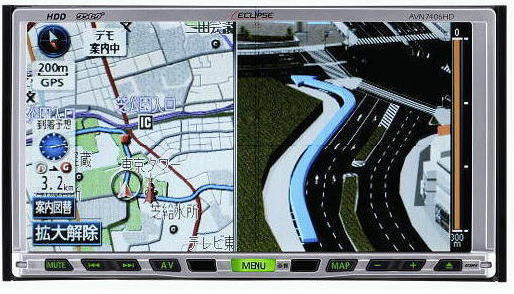 Comments from Mr. Nobuyuki Ueyama, Executive Vice President, Embedded Products Division at eSOL Co., Ltd.

"I am very happy that our eT-Kernel/Extended and eBinder systems have been selected by Denso, a global leader in car navigation systems where high- functionality, performance and reliability are required. We have a broad line of software product for real-time OS, various middleware, and development environments, as well as services for software customization development based on the customer's needs, and technical support for automotive systems - including car navigation systems and car audio equipments. We'd like to support the development for Denso, Fujitsu Ten and other automotive systems manufacturers by providing the best solutions."

About eT-Kernel/Extended

eT-Kernel/Extended is a real-time OS with full support for the memory protection function and process model. It is ideal for large systems including car navigation systems =and digital home electronics product. The memory protection function of eT-Kernel/Extended uses virtual addressing space and prevents a user process from accidentally destroying memory area managed by other programs and kernel resources. This helps debugging at development time and enhances reliability of the final system. Also, eT-Kernel/Extended provides loadable system programs suitable for building loadable drivers, middleware and kernel applications, as well as the user/system processes mechanism for building upper layer applications. With this mechanism, whole system can be designed and developed in modularized and layered method. eT -Kernel/Extended is an ideal real-time OS for large scale systems, developed by many engineers. The unique features of eT- Kernel/Extended include: (1) integrating POSIX compliant file system, (2) fast system boot, (3) exception manager for debug support at development and diagnostic analysis in real system, (4) target shell function effective for system integration, (5) memory protection function for system programs, and more.

For more information on eT-Kernel/Extended, please visit here.


About eBinder

eBinder is a development suite for T-Kernel or uITRON core systems. It provides a rich development environment which is lacking in traditional T-Kernel/uITRON software developments. By using development tools and functions designed from scratch, especially for real-time OS system development, designers can solve problems unique to real time systems easily and fully utilize real-time OS. Development tools including C/C++ compiler and target platform modules for the base of all embedded software are provide for eBinder.


About eSOL Co., Ltd.

Under its guiding spirit of "Contribution to the society through computer enginerring", eSOL has a long, successful, history in the embedded software and distribution/logistics market since it was founded in 1975. eSOL offers the total solution for consistent services, from development to sales and support, eSOL always puts customer satisfaction first.

As an A-level member of T-Engine forum, eSOL strongly promotes technical development and service offerings related to T-Engine and T-Kernel. eSOL offers embedded software products including eBinder developemt suites for T-Kernel/uITRON based system, and eT-Kernel T-Kernel extension. Also, eSOL offers eParts line-up including PrKERNELv4 & uITRON4.0 compliant real-time OS.

eSOL Co.,Ltd established eSOL, Inc. in Portland, Oregon, USA, as its affiliate company, in January 2004 to expand sales of eBinder and eParts to markets in North America, Europe and Asia as well as in Japan.


*eBinder, eParts, PrKERNEL, PrKERNELv4, PrFILE, PrCONNECT and PictDirect are registered trademarks of eSOL Co., Ltd.
* eT-Kernel, PrHTTPD, PrMAIL, PrSNMP, PrUSB, PrPCCARD and PrMTP are trademarks of eSOL Co., Ltd.
*TRON is an abbreviation for The Real-time Operating system Nucleus;.
*ITRON is an abbreviation for Industrial TRON;.
*uITRON is an abbreviation for Micro Industrial TRON.
*TRON, ITRON, T-Engine, T-Kernel are names for computer specifications and don't refer to specific product or group of products.
*All brand names and product names are trademarks or registered trademarks of their respective companies.