Kodak Selects eSOL's Leading RTOS, Middleware and Development Tools for 12 Megapixel EasyShare Z1275 Zoom Digital Camera with High-Definition Capability
Tokyo, Japan. October 3, 2007 - eSOL, a leading developer of real-time embedded software solutions, announced today that Kodak has selected its PrKERNELv4 Real-time Operating System (RTOS) Suites and eBinder Integrated Development Environment (IDE) for their EasyShare Z1275 zoom digital camera.

PrKERNELv4 multi-tasking kernel, PrFILE2 FAT compatible file system, and PrUSB/Device USB peripheral driver with Mass Storage Class have been incorporated into the Z1275 model. eBinder was used as the primary integrated development environment that features a compiler, debugger and analysis tools to facilitate the application development for the Z1275.

To date, Kodak has used PrEKRNELv4 and eBinder for their EasyShare product lines such as EasyShare V570, V550 and V530. Because of its functionality, performance, and ease of existing application migration, Kodak has decided to extend the use of eSOL's software to this leading Z1275 model. Additionally, PrFILE2 and PrUSB/Device are being used for the first time with the existing firmware already integrated with PrKERNELv4 which helps reduce Kodak's overall development time. PrFILE2 serves as the main file system to ensure data format compatibility with PC via SecureDigital cards, and PrUSB/Device enables the camera to directly connect to USB host devices such as PC.

PrKERNELv4 offers task and memory management for real time applications and serves as the primary foundation within the Z1275. As the technology of the digital camera becomes more complex and the development time increasingly shorter, the accuracy of the development is very critical. Kodak has selected eBinder because of its proven track record in this area with their line of digital cameras.

For the EasyShare Z1275, Kodak also leverages the latest DaVinci™ digital media processor from Texas Instruments. The TMS320DM35x processor is specifically tuned for digital cameras to deliver high-definition video performance and double the battery life. The DM35x processor consists of an integrated video processing subsystem, an MPEG-4-JPEG co-processor (MJCP), an ARM926EJ-S core and peripherals. For more information see http://www.ti.com/dm355pr
.

The Z1275 model is currently marketed in Europe, North America and Asia Pacific (excluding Japan), and sells for $249 MSRP in the United States. In addition to a 12-megapixel sensor, the new Z1275 camera features a 2.5-inch LCD screen, 5x optical zoom, ISO sensitivity up to 3200 (at 3.1 MP or lower) and HD video recording at 1280 x 720 pixels at 30 frames per second. The Kodak camera also boasts impressive battery life, delivering 80 minutes of high-definition video capture and display powered by two AA batteries.

"We are very pleased that Kodak continues to choose our software," said Nobuyuki Ueyama, Executive Vice President of eSOL Co., Ltd. "This demonstrates their confidence that our products are effective, robust and reliable. We know that maintaining a position of a top embedded software vendor involves development of high quality software and providing excellent customer support, and we strive to offer the products and services to meet the increasing demand of our customers."


Kodak EasyShare Z1275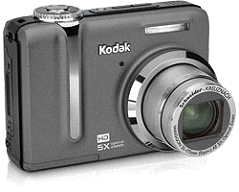 About eSOL
Founded in 1975 in Tokyo, Japan, eSOL is a leading embedded software developer with core technologies in real time operating systems. We develop, market and sell proven RTOS suites, along with a rich set of vertical oriented middleware libraries. Our rugged software development tools provide optimal reliability in backing up the highly complicated development process for RTOS-based applications. We know that a reliable RTOS and development tools make a significant difference to the quality and timeliness of our customers' products in a continuously growing and competitive world market. Today, our customers - global OEMs and ODMs ranging from consumer electronics to automotive applications - ship millions of products with technologies pioneered by eSOL.
For more information, please visit eSOL web site.



* PrKERNELv4, eBinder, PrFILE2, PrUSB/Device are registered trademark of eSOL Co., Ltd.
* All brand names and product names are trademarks or registered trademarks
of their respective companies.