Suzuki Musical Inst. MFG Selects eSOL's Middleware for its Professional Hammond Organ
Tokyo, Japan. July 7, 2008 - eSOL, a leading developer of realtime embedded software solutions, today announced that Suzuki Musical Inst. MFG has selected eSOL's PrFILE®2 FAT file system for the HAMMOND organ "XK-3c", designed for the professional musician.
The XK-3c uses the CompactFlash® memory card as its storage media for recording various setting information. PrFILE2 provides a reliable file system for writing and reading such setting data to/from the CompactFlash memory card.

This XK-3c Drawbar Organ follows in the footsteps of the Hammond B-3 and C-3, which have been favored by many musicians. In addition to packed features from B-3/C-3, Suzuki Musical Inst. MFG has added many of the most requested advanced features to this model. Hammond organs remain the perennial favorites of musicians, for their ability to produce subtle expressions in tone, and warm acoustic sound.

Suzuki Musical Inst. Website

eSOL Success Story.

Hammond Organ "XK-3c"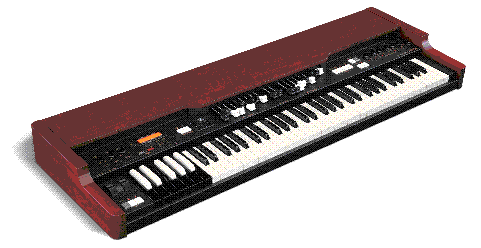 "We chose PrFILE2 because of its high credibility, proven by many OEM customers" said a sales representative of Suzuki Musical Inst. MFG. "With prompt and accurate support from eSOL's engineers, we were able to facilitate our development cycle."
"We are honored that Suzuki Musical Inst. has chosen PrFILE2 for its Hammond organ" said Nobuyuki Ueyama, the Executive Vice President of eSOL Co., Ltd. "PrFILE2 is a proven file system which supports a wide variety of media cards, such as CompactFlash. It boasts an impressive track record, not only in musical devices, but also in digital consumer electronics, automotive devices, and FA equipment. We continuously commit ourselves to support engineers who develop embedded software with our superior technologies and services."
About eSOL
Founded in 1975 in Tokyo, Japan, eSOL is a leading embedded software developer with core technologies in realtime operating systems. We develop, market and sell proven RTOS suites, along with a rich set of vertically-oriented middleware libraries. Our rugged software development tools provide optimal reliability in backing up the highly complicated development process for RTOS-based applications. We know that a reliable RTOS and development tools make a significant difference to the quality and timeliness of our customers' products in a continuously growing and competitive world market. Today, our customers - global OEMs and ODMs ranging from consumer electronics to automotive applications - ship millions of products with technologies pioneered by eSOL.
For more information, please visit www.esol.com.


* PrFILE2 is a registered trademark of eSOL Co., Ltd.
* All brand names and product names are trademarks or registered trademarks
of their respective companies.